Why Us for Concrete?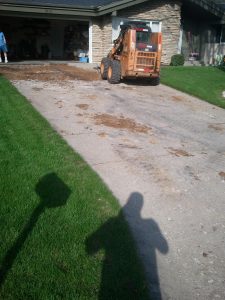 Concrete Pavers: Residential and Commercial
Call (815) 243-5438 for a Free Quote!
Because we are confident in the quality of our work, we offer a 2 year warranty on concrete.
Some of the concrete services we offer are:
Concrete Driveways and Parking Lots
Garage Flooring
Concrete Floors, Patios, & Steps
Concrete Sidewalks and Curbs
Decorative: Textured, Stamped & Scored
Foundation & Basement Excavation
Footer & Foundation Wall Pouring
Interior & Exterior Concrete
Concrete Lifting
Retaining Walls
Pool Decks
Built for Maximum Durability!
Reinforcement is a standard component of our concrete workmanship. Advanced uses wire, rebar, and fibers in the mix to create a much stronger finished product.
Why Concrete?
The reason is because concrete is so versatile, preferred for durability, nice appearance, low maintenance, and indicates quality construction from the first glance.
Request a Quote or Call (815) 243-5438