Commerical / Residential Sealcoating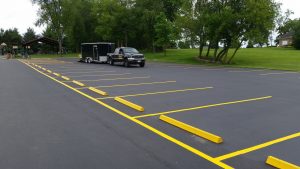 Advanced Surfacing offers quality sealcoating at a great price! We use Brewer Cote Sealer so that your pavement has the highest resistance to the elements.
Prior pavement sealing, any structural failures or cracks on the pavement must be repaired. All potholes must be removed and replaced, cracks must be cleaned and filled, and oil spots cleaned or primed.
We will apply the sealcoating using either a broom, squeegee, spray, or a combination of both, depending on the conditions of the lot.
Request a Quote or Call (815) 243-5438